Current Status: opening Wednesday September 27th at 11 am ET through Saturday, September 30th at 5pm ET.
I'm currently closed for comms, but will be reopening (likely for the last time this year) this Wednesday through this Saturday. The form to put in for a slot will be available on this page on Wednesday at 11 am ET. What I'm offering and the associated prices are on the images below. These slots will be scheduled for completion through the end of the year.
This is the first time in a very long time that I'm offering 2 character images or a 2 image sequence as a single comm; I've had a lot of interest in those options so I'm trying them out in this round. Please note that if you're getting a 2 character piece with a friend it'll still just be the 1 email chain with you and 1 invoice - you'll be responsible for keeping the other person in the loop. If you have any specific querstions that aren't answered by my FAQ and TOS below, feel free to email me.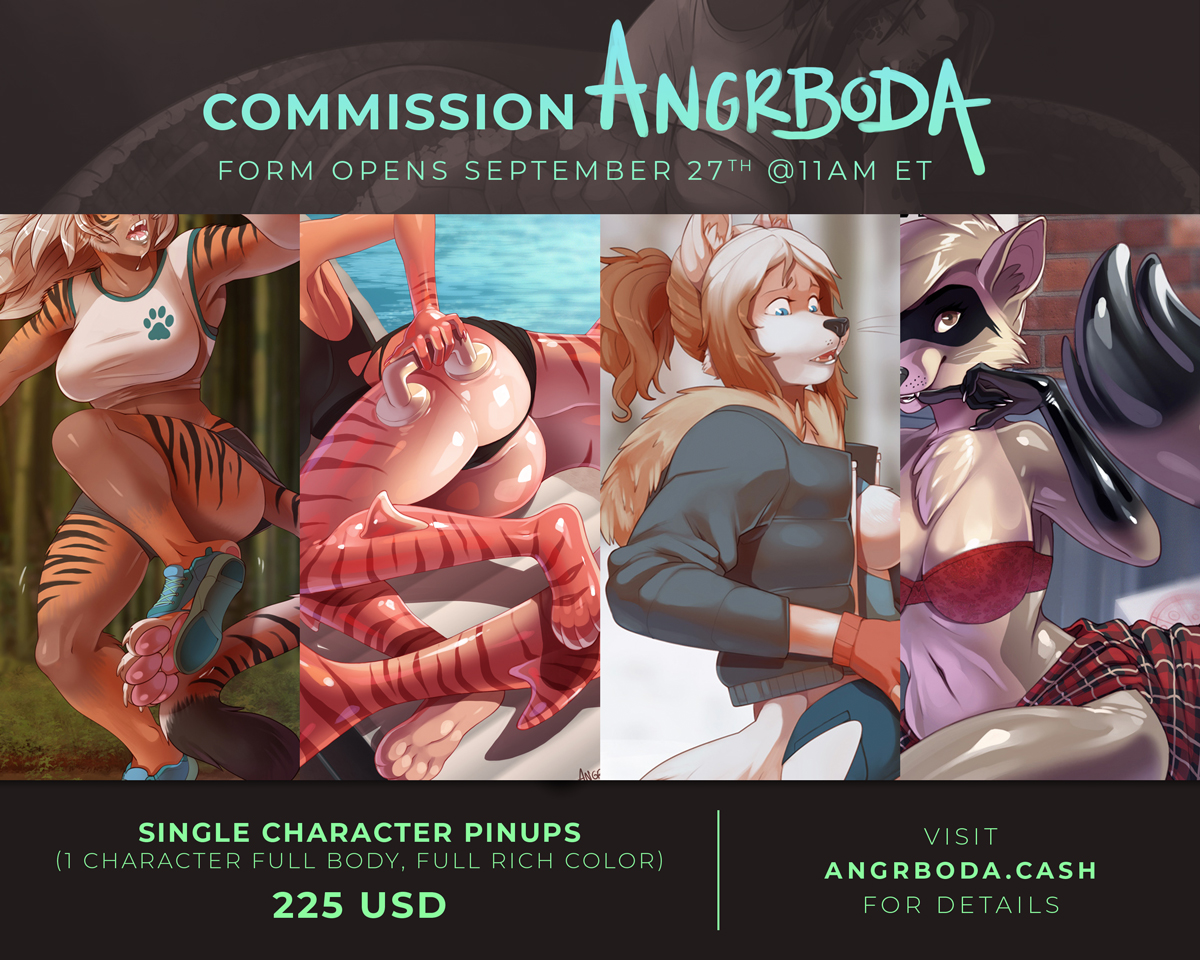 ---
Terms of Service
(Sorry in advance if these are a bit dry; thank you for reading them!)
Commission services are only available to adults over the age of 18. If you are a minor absolutely do not inquire about commissions, thank you.
If you're inquiring about a comm, you probably have a good idea of the kinds of stuff I like to draw and am good at. Please note that absolutely under no circumstances will I draw characters that are or resemble minors, even in PG art. For more content guidelines, please see the relevant section below.
What you receive:
All finished comms are delivered as high res JPGs (US letter size w/o bleeds at 300 DPI) via a link in email. You're responsible for keeping this safe / backing it up locally or in the cloud. I can't promise I will still have your comm on file years down the line (just wanted to mention, since this is a thing I am periodically asked).
How the commissioning process works:
Pinups:
• When I am open, fill out the form at the top of this page (the form only shows up when I'm accepting comms). Please fill out the fields to the best of your ability - I cannot give a slot to a request that lacks references or a concrete description of what you would like. For the email please use an address that you use regularly that I can reliably reach you at, as this is how the rest of the process will be conducted. The more relevant info you can provide the smoother this process is!
• Requestors whose work I can take on will receive an email within 3 business days of the form closing. You will need to respond to this email to confirm that I have the correct address (I won't send sketches to an unconfirmed email for hopefully obvious reasons).
• Your pinup will get added to this spreadsheet that keeps track of my queue. You can check this link at any time to see how far along your comm is towards completion. This sheet will let you know when your piece is scheduled to begin work.
• When I contact you I'll ask for the email address you use for payment. I generally invoice once I am finished with the artwork to minimize the wait time between paying and receiving final art. Please be respectful that I'm trusting you to follow through with this transaction and trying to give you the best experience possible - I have never had an issue w/ pay on completion before and I would love to keep it that way.
• You'll receive a sketch proof via email showing you what I'd like to do for your pinup. At this time, you can let me know what (if any) changes need to be made. Barring major coloring issues, this is your chance to give me feedback, and the image will be finished based on that feedback. If you need to see a revised sketch, please ask for one, as providing one is not typically part of my process (I'm happy to provide one if you ask, though). Sketch revisions are limited to one round (I'm a slow, tight sketcher - if you typically need more than one round of sketch revisions, I am not the right artist for your piece). Please note: Sketch comms do not receive any proofs for approval (since the point of them is to be faster and require less back and forth).
• My queue will be updated as I work through commissions, but I'm always happy to answer emails for folks who would like a status update about progress, or if you have questions about anything written in the notes of the queue.
• Once I have your input on the sketch I'll finish the image. Once it's done, I'll send a link to the invoice via our email chain, and once that's paid, I'll send you a link to the finished high res artwork as a high quality JPG. Please let me know if you would prefer a different format (for example PNG) and I can provide that instead.
Content guidelines
Even though I do draw adult and fetish artwork, I do not draw certain topics, so if you're requesting a pinup, please keep this list in mind. Please no requests for: scat, watersports, underage characters (even in general audiences artwork), pregnancy, vore, adult art of feral characters, hate speech, rape, scenes of excessive cruelty, or gore (small amounts of blood are okay). I reserve the right to decline any commission inquiry for any reason (sometimes I'm just not the artist best suited for your idea, no hard feelings!).
Character references and colors
Character references must be provided at the outset of a commission. Inquiries that do not include either a link to an image reference or a written reference cannot be considered for a slot because I will have no idea how complex your character is. Please keep written references as brief as possible and include facts that are important to how the character looks, like species, hair color, clothing, etc. instead of detailed character backstory. Please note that I will do my best with written references but they are still subject to 1 round of sketch revisions, as with other comms. One last thing to note here is that because my coloring style is very saturated and often incorporates hued lighting, the colors in a final comm may not be hex code perfect to the flat colors from a reference sheet. They are generally very close but occasionally I will desaturate or lighten character colors slightly to help the picture look better once it's shaded and painted. Thanks in advance for your understanding on this!
Changes to the content of your commission request
I'd ask that clients please try their best to fill out the initial form with a content description that is what they will be happy receiving for their final art. When I go through commission descriptions initially I will typically pull pose references, make notes, or pull relevant stock - this means that if you need to change the content of your request, I can't use that prep work. That said I'm willing to allow for folks needing changes to the content of their comm up until the sketch phase, keeping in mind that more complex ideas than the original will necessitate an upcharge that I'll give you a heads up on. I highly recommend writing down your prompt somewhere so you 1) have a copy of your request to hand and 2) can just copy and paste it into the form once I'm open.
Alts
I can happily provide one alt as a courtesy (no extra fee), within the realm of fairly quick / simple edits. Good examples of alts I'll take on are hair color edits, sfw/nsfw edits, piercings, genital edits, or similar. If it's a relatively small change to the existing character and doesn't significantly affect the silhouette of the image, it probably works. Latex versions of characters do not constitute an alt as that would necessitate a complete repaint. Likewise, different stages of a TF are not considered suitable for an alt. Please give me a heads up if you'd like an alt in your original content description when submitting an inquiry. If you're not sure if it's feasible it's okay to ask - I'll let you know.
Cancellation and hold policy
If you need to back out of a commission, please let me know as soon as possible. Please note that you are still responsible for the value of any work already done before your cancellation (so please just tell me as soon as you can, so I can avoid this situation wherever possible). If something happens during the course of your project to delay your ability to pay, please let me know and I can generally defer your project for as long as you need (I try to be as understanding as I can - stuff happens!). If I need to cancel your comm for some reason, I reserve the right to do so at any time, but you will not be charged for whatever work I've done up to that point.
Unused sketches
If I end up having to do a fresh sketch for any pinup comm (this is extremely rare), I reserve the right to re-use my original sketch for any purpose I deem appropriate. (YCHs, art for an anthology, etc.) I will edit the sketch so that it is no longer your character if I wish to use it in this way.
Harassment policy
I reserve the right to decline any commission inquiry at any time for any reason. Please understand if I don't have the capacity to accept your job. Harassment of any kind will result in a block (email, social, etc.).
Contacting me
Please use email as the primary way to talk to me about your comm. Keeping your transaction on 1 chain is the best way to keep it organized and make sure you get your art in a timely fashion. Please don't contact me via telegram or twitter about commissions. Thanks!
Licenses
A commission constitutes the receipt by the commissioner of a non-commercial license to use and re-post the work (that means you can absolutely post it online wherever you would like, or make a print for personal purposes). If you need a commercial license agreement for some reason (for example, you want to include it with a story you have for sale or sell a print of it), that will incur an extra fee that we can discuss via email, please just give me a heads up when you submit your inquiry. I retain all commercial rights to the artwork, including posting and re-sale in either physical or digital form (ex., I can post it to my galleries, sell prints, or include it in a paid anthology).